Veedersburg
Veedersburg, Indiana, is a small town located in Fountain County. As of 2017, Veedersburg has a population of 2,074 people. Founded in 1871, it is an hour and fifteen minutes from Indianapolis and an hour from Terre Haute. The town was originally called Chambersburg. It was first settled by Jonathan Birch and John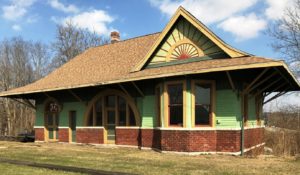 Colvert. It was later renamed for one of its founders, Peter S. Veeder. Veedersburg grew as a result of three major railroads that ran through town. Bricks also helped the town grow. In fact, the Veedersburg Paver Company made the bricks for the original Brickyard for the Indianapolis 500 and the Chicago Loop. Today, agriculture comprises the majority of the town's economic activity.
Things To Do
One of the most popular things to do in Veedersburg is support the Fountain Central Mustangs during football season. Football is a way of life here! Fans come supplied with sweaters, blankets, and hot chocolate to support their favorite team every Friday evening throughout the fall. In the summertime, Hershey's Drive-In is a great place to grab a quick bite for lunch or dinner, or some delicious ice cream for dessert. Sit outside on the benches and enjoy your meal with friends and family.
Education
In the 1950s and 1960s, many smaller schools were consolidated to create the Fountain Central school corporation. Three districts were created, and the Veedersburg area was in the third district. Builders began construction for the high school in 1964 and finished in 1965. Builders then added a swimming pool onto the school in 1975. Today, Fountain Central Jr./Sr. High School offers a comprehensive academic program. The school corporation also hosts a wide variety of activities for their students, including many sports, clubs, and national organizations.
Surrounding Communities
Satellite communities include Hillsboro, Kingman, Mellott, Newtown, Wallace, Covington, and Attica.
Veedersburg Homes for Sale