2023 is finally here! With the new year comes new color trends for interior paint. Sherwin Williams, Behr, Valspar, Glidden and Benjamin Moore have all announced their signature colors for 2023 color trends for homes. We will be seeing a variety of colors from warm neutrals, rosy hues, and earth tones to rich, dark colors to pastels. So, if you are looking for a quick and inexpensive update for your home to help refresh and enliven your rooms to avoid cabin fever, head to your local paint store and request one of the following trendy colors.
Redend Point is Sherwin Williams' 2023 Paint Color of the Year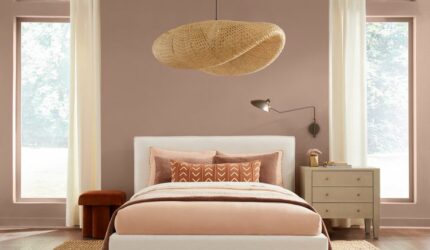 Sherwin Williams has chosen Redend Point for this years paint color. This soft pink color is earthy and works well with natural textiles and wood accents. You could pair this color with terra cotta shades or clay materials to create a desert paradise. http://www.sherwin-williams.com
Blank Canvas is Behr's 2023 Paint Color of the Year
Behr's 2023 Color of the Year is Blank Canvas. This Paint color is a warm white with a creamy yellow undertone. This color offers a clean and inviting blank slate that can be punched up with bright accents for fun or with black for a more dramatic impact. http://www.homedepot.com
Raspberry Blush is Benjamin Moore's 2023 Paint Color of the Year
Benjamin Moore's has chosen Raspberry Blush for their color of the year for 2023. This red-orange hue is saturated and vivacious. This bold color pairs well with the shades in the 2023 palette. Or if you need something more understated, use neutrals or paler pinks. http://www.benjaminmoore.com
Gentle Violet is Valspar's 2023 Paint Color of the Year
Valspar has chosen a soft pastel for their 2023 color of the year. This color is a soft, lovely lavender that will rejuvenate any space. Paint in a reading nook to create a subtle yet sophisticated space. Combine with rich accents to create a room that is calming and stylish. http://www.valspar.com
Vining Ivy is Glidden's 2023 Paint Color of the Year
Finally, Vining Ivy is Glidden's 2023 Color of the year. This rich blue-green jewel tone can be used in contemporary as well as classic design settings. As this color pairs well with any space, decorate with wood finishes, stone accents, and rich textures to create a little oasis in your home. http://www.glidden.com
2023 Color Trends for Homes
Whether you prefer neutral or bold, 2023 color trends for home has you covered. All of these colors could invoke a different feeling as you ring in the new year. Refreshing your home's paint color is an inexpensive way to invest in your home, be trendy, and bring you joy this winter. There is no time like the new year to take your home to a new level with one of the paint colors chosen for the 2023 Color Trends for the new year.
https://www.thespruce.com/2023-color-trends-6751137
https://www.housebeautiful.com/design-inspiration/g42004612/color-trends-2023/