Looking to list your home, but unsure whether the holidays are a good time? We certainly understand your hesitation. The weather is cold, folks are busy, and inventory is limited. But…here are seven reasons why Taylor Real Estate Specialists actually recommends listing your home during the holiday season.
1. Your home looks its coziest
When selling a home, it's always important to create a welcoming space. This helps potential buyers to envision themselves living in the home. During the holiday season, the warm glow of string lights, candles, and a fireplace certainly makes a home inviting! With the help of your decorating, buyers will have no difficulty picturing themselves curled on the couch with a hot cup of coffee on a snowy morning. Need some advice on holiday decorating? Check out HGTV's article on 20 Ways to Decorate for the Holidays on a Budget.
2. Your safety is still our utmost priority
We completely understand that COVID-19 is still a major concern in Indiana. Since March, Taylor Real Estate Specialists has made each of our client's safety our utmost priority. This includes strictly following the CDC-recommended guidelines of using proper personal protective equipment (masks and hand sanitizer) and maintaining a distance of six feet. When listing your home, we will provide you with a hard copy of our recommendations for both buyers and sellers during COVID-19. Additionally, when inputting your home on the Multiple Listing Service, we will include any specific instructions you would like. For example, we can tell agents and their potential buyers to "please use the provided masks and hand sanitizer at the front door."
3. Buyers are still looking, even during the holidays
Although it is true that many people are at their busiest during the holiday season, 2020 homebuyers are still searching. Due to the extremely limited inventory we've seen this year, many buyers are still in the process of locating the right home for their criteria. Folks tend to have more time off during this time of year, too, meaning they can take an extra moment to savor everything that sets your home apart.
4. Interest rates are historically low
The pandemic has certainly had an interesting effect on the housing market in that interest rates are incredibly low. It is unknown how long such attractive interest rates will prevail, making now an excellent time to buy. Here are the most updated interest rates as of December 2, 2020: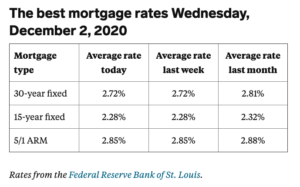 5. Space to work from home is now a major priority
Due to the pandemic, many working professionals are now seeking larger homes in order to accommodate a home office. In October, Chief Economist for the National Association of Realtors® Lawrence Yun stated, "Many of those who have the financial resources but weren't considering buying a new home found their current space was too small to accommodate working from home." Additionally, people are wanting to move out of big cities and into more rural communities.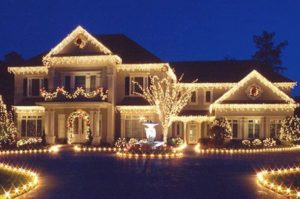 6. Your competition is limited
As mentioned above, the housing market has seen an incredibly limited inventory in 2020. This trend has persisted into December. The good news for you as a seller? Buyers have fewer options to choose from. All the more reason to spruce your home up and make it shine amongst the rest!
7. We'll help you prepare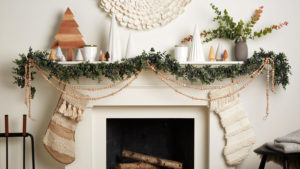 At Taylor Real Estate Specialists, we are more than happy to advise you as you prepare your home for listing. Your listing agent will provide you with helpful tips when visiting your home, but if you have further questions, check out our article "20 Tips for Selling Your Home."
Ultimately, the holidays are an excellent time to list your home. Buyers are available, inventory is low, and your home looks lovely! If you are interested in listing your home at this time, please do not hesitate to give us a call. Our office hours are Monday through Friday, 8:30 a.m. to 5:30 p.m. We look forward to hearing from you, and happy holidays!