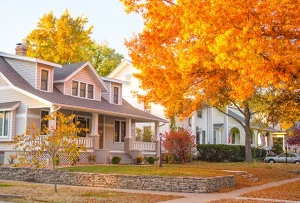 With fall comes many things; football, family dinners, cozy fires, and cooler temperatures. A short to-do list to get your home ready for winter should be considered part of your annual fall projects. Here are 5 things you can do this fall, while the weather is still relatively warm, to ensure a safe and warmer winter.
Clean your gutters
Gutters full of leaves and other debris mean the water collected won't properly flow to the downspouts. If this happens then the water could spill over the gutter and pour onto sidewalks or walkways. Should this happen during cold weather, the chances of it freezing are pretty high, creating a super slick surface. You don't need an ice rink for a sidewalk! Full gutters could also mean water running back towards the house, leaking into a basement or ice damming under the starter shingles and causing roof damage. To avoid slippery walkways and flowback, clean and remove all the leaves and debris from your gutter. Another good idea would be to purchase extensions to go on the end of the downspout. This takes the water further away from your home. These may be purchased at your local home improvement store.
Feed your lawn
Autumn is a great time to feed your lawn. Your grass may not be growing, but the roots are still active. Fertilizing now, in the fall, helps promote healthy root growth before it goes dormant. After the last mowing of the year, apply the fertilizer and wait for spring! A good tip to remember is to make sure the fertilizer you purchase is formulated and specifically labeled for fall or winter. These types of fertilizer contains more nitrogen.
Drain outside water lines and faucets
Cold weather causes water to freeze, expanding the cracking the pipes and hose bibs. This could result in a real mess!
Test the alarms and detectors
Fall is full of family dinners, decorating for the holidays, and having fires. Make sure your smoke and carbon monoxide detectors are working and in good condition to keep everyone safe and sound!
Reverse your ceiling fan direction
Reversing the way our ceiling fan rotates may not seem like a big deal, but it could save you up to 10% on your heating bill. Switch your fan to a clockwise direction. This will push the warm air by the ceiling down towards the floor.
There is of course more you can do to prepare your home for winter while the weather is still nice, but the 5 tasks listed about are either free or relatively inexpensive (depending on lawn size). Being outside on a fresh fall day is delight and checking off your to-do list while taking good care of your home is even better!