As a REALTOR you might expect I am frequently asked, "How is the market in Crawfordsville?" What they are really wanting to know is should I consider selling my home or purchasing a home. The answer is a resounding, YES!
To help illustrate this I thought I would share the raw data which clearly illustrates how Crawfordsville and Montgomery County, Indiana has never seen such home prices before in its history. LOUOATES/iStock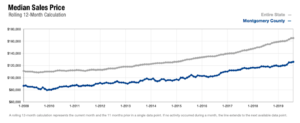 The Market in Crawfordsville and Greater Montgomery County
The median home price in Montgomery County as of August, 2019, was $128,750. That is up as a comparison thru August of 2018 by 9.6%. This continues to be attributed to the low inventory market in Crawfordsville and all over the county for that matter. Our most recent data reflects that our Montgomery County inventory is down by -2.1% year to date. Will this last? We have had a more generous supply of inventory this year then we did last year which has provided some relief for buyers and paired with terrific interest rates again this year it has made for a very strong seller's market.
So if you have not listed your home by this point, have you missed the boat? Forecasts indicate that the tides could turn slightly as 2020 approaches so I am encouraging those that have been on the fence to make it happen this year. Personally, I have seen some of my busiest months of the year in the fall. Why is that? Simply, people want a home before Christmas and the onset of cold weather.
If you want to explore the idea of selling your home in Crawfordsville, feel free to contact me for a no obligation Comparative Market Analysis to determine the market value of your home.